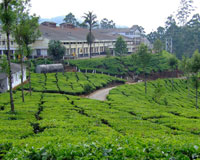 Originally known as
Kodaimalenadu,
Coorg (or Kodagu) is a little hill-station that covers an area of 4102 sq km. It is located on the Western Ghats of Karnataka, bordering the state of Kerala. With its breathtaking beauty and virginal atmosphere, it is a much-favored destination from travel and tourism point of view. The martial race of Coorgs (Kodavas), the largest local tribe of the place, with the chivalrous streak in their nature and gallantry, add to the rich culture and indigenous history of the place. This beautiful land of the "Kodavas" is famous as "The Land of Warriors".
With its verdant valleys, sleepy hills, serpentine streets, scintillating mountains and its mystic air, its unsurpassed beauty is also heightened by acres and acres of tea and coffee plantations that stretches across the place. Lofty teakwood and sandalwood trees abound the place and enhance its grandeur manifold. Coorg is even termed as the "Orange Country", for its innumerable orange groves. With the rich and inviting aroma of coffee, sandalwood and oranges, Coorg provides a treat to your olfactory senses, coupled with its visual delights. In fact, its district capital, Madikeri, is popularly known as "the Scotland of India".
Coorg has something or the other to offer to everyone who visits and explores its enticing and exciting little domain. With facilities for various adventure sports like golfing, trekking, angling etc amidst the rugged beauty of its majestic mountains, it is a perfect getaway for the adventure lovers. Its beauty is equally gripping for people who trot to hill stations to escape their tumultuous lives in the noisy metropolis. With the mellifluous chirping of birds, the gurgling waterfalls and the romantic mountain breeze, it is the perfect place to mingle with the placidness of nature's wealth.
If you are someone who love pampering yourself, Coorg certainly has options for you. With its famous ayurvedic and therapeutic massages, you can rejuvenate your mind and just relax on its lap, enjoying the panoramic view of the Arabian Sea. You can even visit various religious sites in Coorg, to experience its mysticism and spiritual flavor. So, what are you waiting for? Get ready for an unsullied experience in Coorg, with its mist-covered mountains, aromatic coffee bushes and spices, salubrious air, meandering waterfalls and rolling paddy-fields. And yes, don't forget to go around and see some of the most exotic hamlets and villages around the city on your trip.